Skip to Content
Prevent Brake Failure in Greenville, Anderson, and Spartanburg, SC
Expert Advice From Brake Professionals at Hawkins Towing
At Hawkins Towing, we understand the importance of safe and reliable brakes for truck and tractor-trailer drivers. When your brakes begin to wear down, it can increase the risk of accidents on the road. That's why we're here to help with all your commercial truck brake repair needs.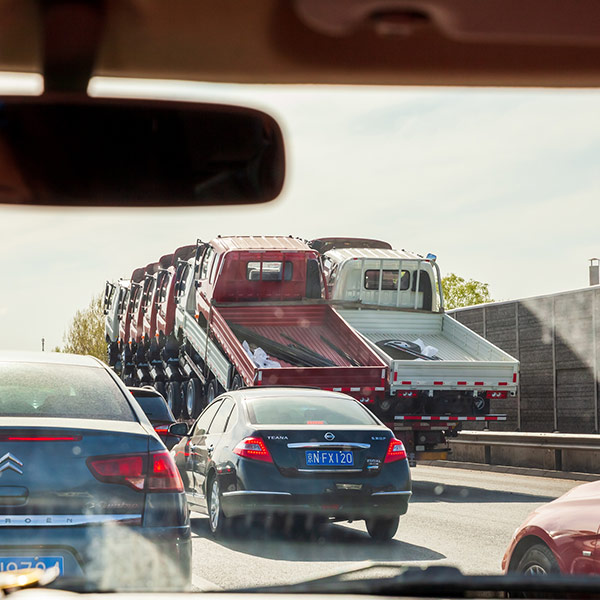 Understanding Brake Failure
A braking system is a group of components that work together to slow down or stop a vehicle when a driver engages them. Some common causes of brake failure include:
Negligent owner maintenance — It's important for truck drivers to regularly inspect their brake pads for wear and replace them as needed. If this is ignored, it can lead to a serious accident when the brakes fail.
Negligent mechanic maintenance — A mechanic who is responsible for safely installing or maintaining a brake system can also cause brake failure. This can include an improper pad or rotor installation, insufficient brake pedal pressure, and incomplete brake installation.
Defective brake components — Sometimes, a defective brake component can cause a brake system failure. This may include brake pads, rotors, calipers, and hydraulic brake system components.
Potentially Liable Parties in a Brake Failure Accident
There are several parties that may be liable for an accident caused by brake failure, including:
Vehicle owner — If a driver fails to properly maintain their brakes, they may be liable for the damages caused in an accident.
Vehicle/parts manufacturer — If the failure was caused by a defective brake part, the manufacturer or company that made the part may be liable.
Vehicle mechanic — If a negligent mechanic fails to safely service or maintain the brakes, they may be held responsible for the accident.
In some cases, multiple parties may be liable for an accident. In this situation, it may be possible to sue all parties as co-defendants and show how each party contributed to the accident. The damages awarded may then be divided according to the degree of contributory negligence.
How To Determine the Cause of Brake Failure
If you've been involved in an accident caused by brake failure, you must determine the cause in order to hold the liable party responsible. Our team at Hawkins Towing can investigate the accident and bring in a neutral mechanic to evaluate the system and identify the cause. We may also gather testimony from eyewitnesses, review pictures and video footage of the crash scene, bring in accident reconstruction experts, and review law enforcement reports.
Recoverable Damages
If you or a loved one has been involved in a car accident caused by brake failure, you may be entitled to compensation. This can include both economic and non-economic damages, such as:
Medical expenses — The costs of hospitalization, surgery, medication, physical therapy, and other medical treatments related to the accident.
Lost wages — If you were unable to work due to your injuries, you may be entitled to recover the wages you lost during your recovery.
Pain and suffering — This can include physical pain and emotional distress caused by the accident.
Property damage — If your car was damaged in the accident, you may be able to recover the costs of repairing or replacing it.
NOTE: Every case is different and the damages you may be entitled to will depend on the specific circumstances of your accident.
When It's Time for Commercial Truck Brake Repair
If you notice any of the following issues, it's important to get your brakes repaired as soon as possible:
Screeching when braking — This could be a sign that your brake pads are worn out.
No resistance when braking — If you must press down harder on the brake pedal than usual, there may be a problem with your brake system.
Air leaks from brakes — If there is compressed air leaking from your wheels or engine bay, your air braking system may malfunction.
Fluid leaks — If your truck is leaking hydraulic fluid, your brakes may be in danger of failing.
By being aware of these warning signs and getting your brakes repaired promptly, you can keep yourself and others safe on the road.
When Should You Repair Your Truck Brakes?
As a truck or tractor-trailer driver, safety is of utmost importance to your job. When your brakes begin to wear down, the probability of an accident increases. We suggest replacing your brake pads every 20,000-60,000 miles. Front brake pads will need to be changed more often than back brake pads. By regularly maintaining your brakes, you can ensure that your truck is safe to drive and reduce the risk of an accident.
Need Commercial Truck Brake Repair? We're Here To Help!
Trust the experts at Hawkins Towing to get your commercial truck brakes repaired and back on the road safely. Contact us today to schedule your service and check out the answers to our most frequently asked questions!
Call for Tow Service or Roadside Assistance