Skip to Content
We Provide Heavy Duty Towing in Upstate, SC
Fast, Reliable Heavy Duty Truck Towing
If your truck or trailer breaks down on or near a highway or interstate, you need a towing company you can rely on to provide fast, reliable heavy-duty towing services. At Hawkins Towing, we offer 24-hour highway towing services in Greenville, SC. We operate heavy-duty towing trucks and flatbed trucks that can safely haul and transport large vehicles and heavy loads. Don't risk your safety or the safety of your vehicle and cargo by delaying securing heavy-duty towing services when you're stranded.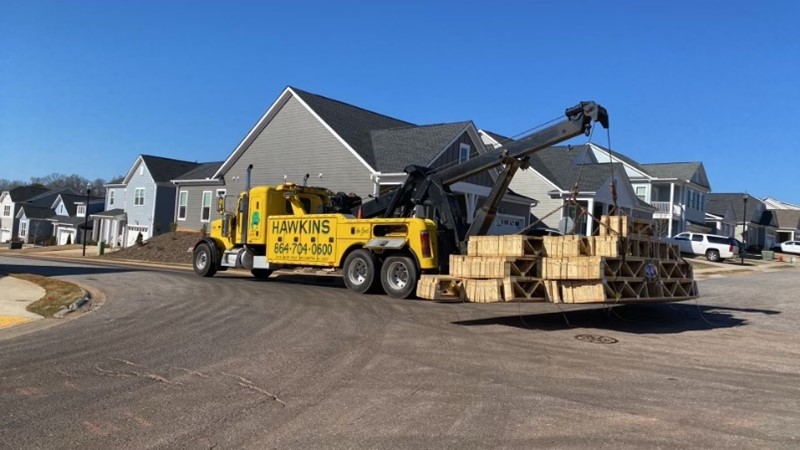 The Basics of Heavy-Duty Towing on Highways
Heavy-duty towing services on highways and interstates ensure that even large, heavy vehicles can be safely recovered if they break down or become disabled while transporting their cargo. We know how important it is for commercial truck drivers and haulers to safely deliver their loads on time. We also know the challenges that commercial trucker face on the road. Our goal is to help those in the industry stay safe and maintain the safety of their cargo, even if they break down or are disabled in a remote area on or alongside a highway or interstate. We use heavy-duty towing equipment to ensure your truck or trailer is safely retrieved and transported.
Heavy Duty Towing in Greenville, Anderson, Hendersonville and Spartanburg
What Towing Capacity Is and How to Calculate It
When we first arrive onsite to provide heavy-duty towing services, we will fully assess the situation and determine the best heavy-duty towing and recovery equipment to use. Our goal is to get your truck or trailer to safety as quickly and efficiently as possible while mitigating risk, danger, safety issues, and damage. We will first assess the vehicle's towing capacity. A vehicle's towing capacity is the amount of weight it can tow to transport the vehicle and its load safely. We will account for the weight of the heavy-duty towing truck and the weight of cargo and passengers, as well as fluids like gas and coolant. We will use the best heavy-duty truck to tow your load.
Vehicles That Require Heavy-duty Towing
Our heavy-duty truck towing services can handle vehicles of all sizes and weights. We can recover small cars stuck in the mud as well as overturned semi-trucks and trailers. Our heavy-duty towing trucks and heavy-duty towing equipment can handle the following:
Semi-trucks
Trailers
Motorhomes
Buses
Disabled and damaged vehicles
Extreme vehicles
Off-roading vehicles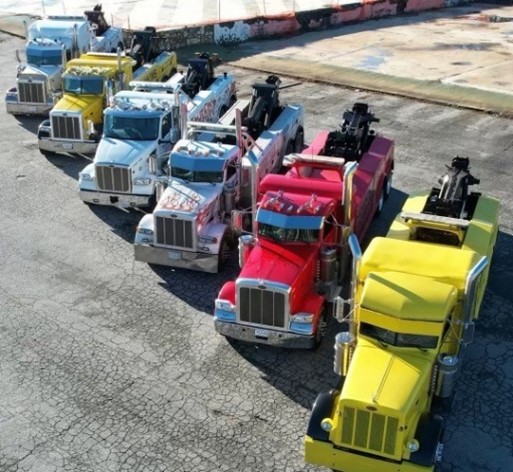 Heavy Equipment Transport and Relocation
Even if your vehicle wasn't in an accident, you can call our team to safely relocate heavy-duty vehicles from one place to another. We can safely recover and transport heavy-duty equipment and industrial machinery like tractors, steamrollers, forklifts, and more. Our heavy-duty towing equipment can handle vehicles up without weight limitations.
Most Common Questions About Heavy-duty Towing
A heavy-duty tow truck can move semis, garbage trucks, big rigs, trailers, and bobtail trucks.
The most common types of heavy-duty towing equipment we use are:
Wheel lifts – These are also called under lifts and attach to a vehicle's front and back wheels to partially lift them from the road, so the other wheels are at road level for transport.
Light bars – These are attached to the driver's window to provide illumination in low-visibility conditions. This helps us see clearly and ensure the safety of people and equipment.
Chains and hooks – These are used to secure loads and keep the vehicle in place during loading and towing. We may use tow hooks for lighter loads and chains for heavier or more unwieldy loads.
Winches – Winches, chains, or cables are wrapped around a drum. They are used to lift vehicles from the road and offer tension to ensure the vehicle is stable during transport. They can also be used to lift a vehicle onto a flatbed truck.
Boom lifts – Boom lifts have a sling at the end to cradle the vehicle as it is moved into the desired position. They allow a wrecker to rotate and remove vehicles from hard-to-reach spots.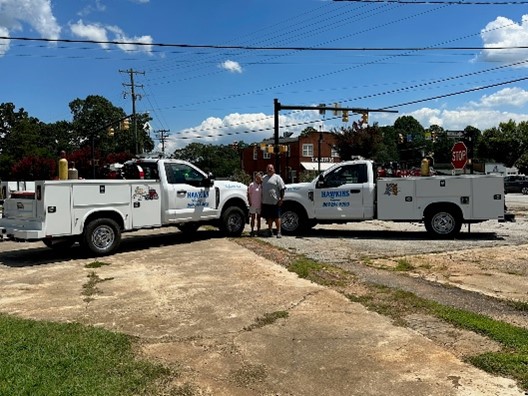 Our Other Services
In addition to heavy-duty towing services, we also specialize in the following:
Truck brakes
Flatbed towing
Mobile welding
Wrecker services
Roadside assistance
Load shift assistance
Tractor trailer parking
Heavy hauling services
24-hour towing services
DOT inspections for trailers
Contact Us to Schedule Heavy-duty Towing in Greenville, SC
If you need heavy-duty towing services in Greenville, SC, call or contact us online. Our experienced team can assess the situation and determine the best heavy-duty towing and recovery equipment to use. We will take special measures to ensure the safety of your vehicle, cargo, and surrounding vehicles and property.
Call for Tow Service or Roadside Assistance