Skip to Content
We Provide Off-Road Recovery in Upstate, SC
Safe, Reliable Off-Road Recovery
At Hawkins Towing, we specialize in safe, reliable off-road recovery in Greenville, SC. If your equipment is stranded in a remote, inaccessible, or dangerous area and you're concerned about your safety or the safety of your vehicle, our team of trained off-road recovery experts can help. We have extensive experience in off-road vehicle recovery and can ensure your vehicle is safely retrieved with as little damage as possible.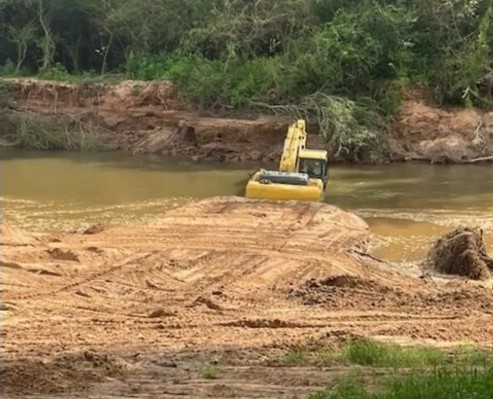 What Is Off-Road Recovery?
Off-road recovery services ensure a vehicle's safe, reliable recovery from a remote area, like a muddy area, farm field, ditch, ravine, or body of water. This area might be outside the city or county lines and require special off-road recovery equipment to access. It can be dangerous to attempt off-road recovery without the proper tools and equipment, as you risk injury to yourself and damage to your vehicle and surrounding property. Whether you took your vehicle off-roading or just got stranded or wrecked in a remote area, our team has the off-road recovery gear necessary to get your vehicle out safely.
Our Best Off-Road Recovery Equipment
We use powerful, commercial off-road recovery equipment to ensure even the biggest problems are solved as quickly as possible. We can quickly assess the problem and determine the fastest, safest methods for recovering stranded or stuck vehicles. Our off-road recovery tools and equipment include:
Powerful flatbed trucks that can haul even the heaviest of vehicles.
Specialized off-road recovery gear like winches, straps, and tow cables.
Heavy-duty hauling equipment and heavy-duty accident recovery equipment.
Roadside assistance equipment to recover disabled vehicles, including spare tires, jumper cables, fuel, and more.
Challenges and Solutions for Off-Road Recovery
We carefully assess the situation when we arrive onsite for off-road recovery. We will never rush to action and risk damage to your vehicle, property, or safety. We use our decades of experience and powerful off-road recovery equipment to find the safest, fastest, and most effective solution for disabled or stranded vehicles. We believe there is no problem to major that our experienced team can't find a solution. We have handled hundreds of extreme off-road recovery jobs in remote areas and have identified the most effective, most powerful off-road recovery gear for any situation.
Safety Considerations During Off-Road Recovery
There are many considerations when beginning a successful off-road recovery job. We always place safety as the utmost priority. We want to maintain our team's safety, your safety, the safety of your vehicle and our vehicle and equipment, and the safety of the surrounding property. We carefully assess the situation as soon as we arrive and provide each customer with all the information, they need to make an informed decision about our off-road recovery solutions. We want to be sure each customer understands the challenges and safety considerations present at each job.
Our Other Services
In addition to off-road recovery services, we also specialize in:
Truck brakes
Flatbed towing
Mobile welding
Wrecker services
Roadside assistance
Load shift assistance
Heavy hauling services
24-hour towing services
DOT inspections for trailers
Call for 24-Hour Towing & Roadside Assistance
Call to learn more about our off-road recovery services or to request 24-hour towing or roadside assistance in Greenville, SC. We offer fast, reliable, and safe towing and wrecker services throughout upstate South Carolina. If you're stranded and worried about your safety, we can recover you and your vehicle quickly, even in a remote, rural area.
Call for Tow Service or Roadside Assistance