Skip to Content
Roadside Assistance in Greenville, SC
Emergency Roadside Assistance and More
At Hawkins Towing, we have been helping motorists in Greenville, SC, and the surrounding areas out of difficult situations since 1999. Though our roots are humble, today we offer a comprehensive list of services that include towing services, 24-hour roadside assistance, heavy hauling services, commercial towing, truck alignment, load shift assistance, and more. We offer a wide variety of professional services because we want to be able to help as many motorists as possible. We know that there is a lot that can happen out on the road in Greenville, but you will always have a capable ally when you have our number saved in your phone. Our company is very proud to serve the Greenville area. No matter what situation you find yourself in on the road, you can always count on reliable and helpful service from Hawkins Towing.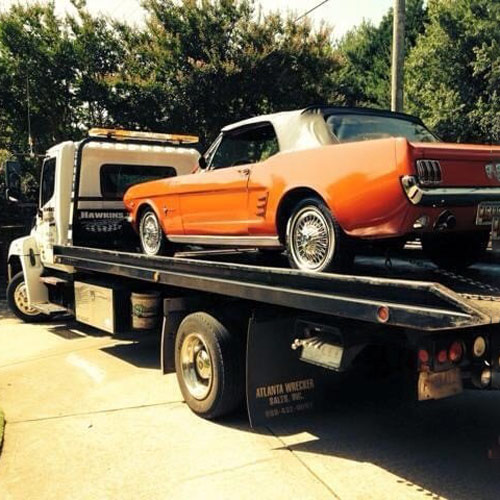 The Hawkins Towing Advantage
We aren't the only game in town. We know motorists have choices when they need help on the road. But there are distinct benefits when you call on us. For instance, we are a local towing company. Among other things, this means we know all the best routes to reach you and get your vehicle where you need it to be. We provide speedy towing services throughout Greenville. We also have a team of professional and supremely experienced technicians who can assist you with 24/7 roadside assistance. And you never have to second-guess calling us because we can haul your vehicle no matter how big or small it is. From sedans to semis, we have the vehicles for the job. Greenville is a fast-growing city with new residents moving to town every day. And while this growth is great for the city, it presents more dangers for motorists. The best benefit we offer is always being there for you when you need us. No matter what misfortune you run into on the highway or the surface streets, you can always rest easy knowing that we can help you out of any situation.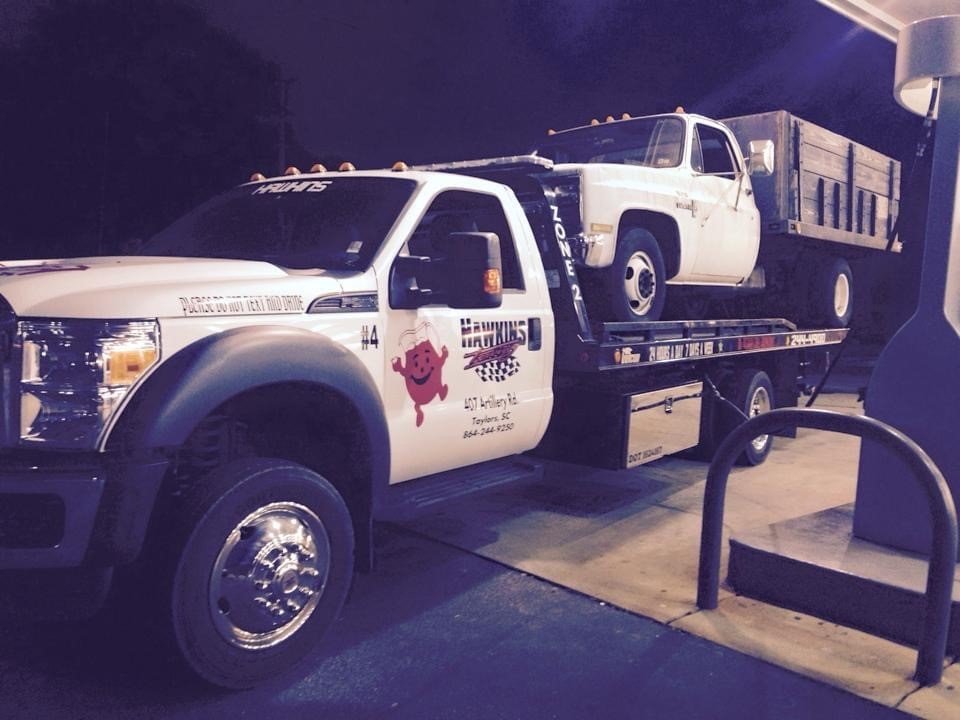 Our Locations
Hawkins Towing has locations in Travelers Rest, Taylors, and Williamston. From these three locations, we can dispatch our drivers and technicians so that they reach you quickly. You can call on us for service in:
How to Choose the Best Towing Company
The towing company you choose should be a capable one. One that has the vehicles to haul and safely transport your car, van, truck, SUV, bus, 18-wheeler, or even heavy construction equipment. You should choose a company that is reputable and has a long track record of customer satisfaction. You should choose a company that offers affordable towing services rates. Here at Hawkins Towing, we offer all of this and more. That's why we have been in business for over two decades.
You Have Help in Greenville
Most of all, we want motorists in Greenville, SC to know that they have help whenever they need it. You should choose us because our goal is to meet your satisfaction. We also offer a long list of helpful services including emergency truck repair. All our services are administered by master mechanics, technicians, and drivers with vast experience. The next time you need help on the road, be sure to contact us.
Call for Tow Service or Roadside Assistance