Skip to Content
24-Hour Roadside Assistance in Upstate South Carolina
Not every car problem on the road requires a tow, and Hawkins Towing is here to provide 24-hour roadside assistance in upstate South Carolina to help with some of those smaller issues that have you temporarily held up. Our company is trusted in the region to provide fast responses to vehicle issues of all kinds. Since 1999, we've helped countless motorists who've run out of gas, locked themselves out of their car, or need help changing a flat tire. Our commitment is to ensure drivers get back on the road safely as soon as possible.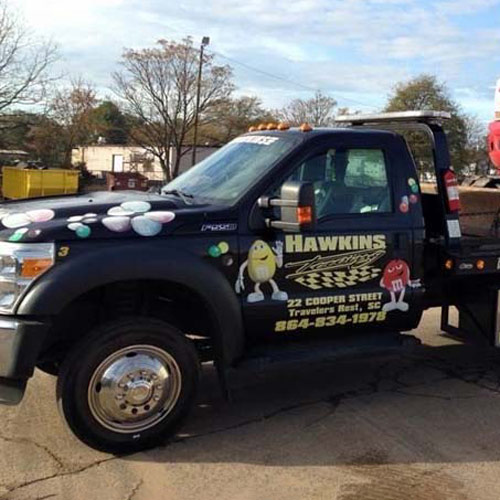 Roadside Assistance Services With You in Mind
For more than two decades, our team has been responding to calls from drivers in need throughout the state. We've seen and assisted in just about every situation you can imagine. This experience is essential in preparing us to answer your call when it comes in and providing the help you need as quickly as possible. We're qualified to help you in any situation. Some of the most common we respond to include:
Replacing flat tires with a spare
Jump-starting dead batteries
Delivering gas to a car that's run out
Removing vehicles stuck in mud or ditches
Unlocking cars when the owner is locked out
And more
Call Us Any Time Day or Night
Our crew is available 24 hours a day, seven days a week, because we realize you can never plan when you're going to have a flat tire or run out of gas. Our services are fast, convenient, and designed to get you on your way as quickly as possible. Rather than try to coordinate with a family member or friend to find you and come help, you'll have better luck with a professional. Our tow technicians will likely have a remedy for you in less time. Contact Hawkins Towing in upstate South Carolina for 24-hour roadside assistance and emergency towing now.
Call for Tow Service or Roadside Assistance